We made it!  I'm so looking forward to this weekend.  After a busy week of traveling and a challenging day at work I need a little R & R.  I found this cute little 5 X 5 over at Lauren's blog and couldn't resist participating.  You know I love a good list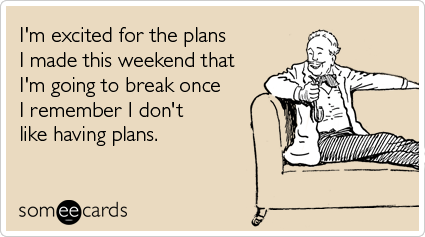 5 X 5 Friday
5 TV shows that I am really happy are back for the fall season:
1. Castle
2. The Big Bang Theory
3. The Mentalist
4. Revenge
5. Grey's Anatomy
Plus about ten others.  I mean 5?  Who am I kidding?
5 songs that I sing at the top of my lungs when I'm driving in the car alone:
1.  Rocket Man by Elton John
2.  Fire and Rain by James Taylor
3.  Someone Like You by Adele
4.  Colder Weather by The Zac Brown Band
5.  Just Like Jesse James by Cher
John and I actually do a pretty great duet to Just Like Jesse James
 I have a serious thing for James Taylor.  His music is my go-to whenever I feeing pretty much any emotion imaginable.  Have you guys seen this video?
It made my entire year
5 things I'm looking forward to this month:
1.  We're going hiking next weekend!  It's the first time since our vacation this summer, and I'm more the ready.  Plus, it'll be my first hiking trip since I started the blog and I can't wait to recap it for you guys.
2.  Our anniversary is this month!  It's been almost three years, and I still think it was the best decision I ever made!
3.  My grandpa's 80th birthday is the same day as our anniversary, and the family is having a huge party the following weekend to celebrate.  It'll be two days of spoiling him rotten with attention which he absolutely loves.  It also means an opportunity to go "home" and see all of my immediate family.  Sometimes living away from my parents and sister is really tough, and I love any excuse to see them.
4.  I know I can be pretty redundant when it comes to this topic, but October finally finally means cooler weather.
5.  Our school's Fall Break is this month.  Gotta love a four day weekend
5 Healthy Living Goals
1.  I really want to get back into strength training.  Since I'm working out completely at home now it's harder to get this part of my workout in.  Not to mention that it's not my favorite way to work out so I'm really bad about making excuses.  No more excuses!
2.  Continue to do yoga.  I've really enjoyed my first week of Courtney's yoga challenge (recap coming this weekend!), and I want to make it a priority.
3.  I want to try an entire day of not counting calories.  I really struggle with this, and I know it's led to some obsessive behavior.  I want to try an entire day of intuitive and healthy eating without counting every morsel I put in my mouth.
4. On that note, I want to continue to make progress with my scale addiction.  I'm doing better, but I want to get down to once a week.
5.  Get faster on my bike!  Perhaps it's time for me to buy clips.  John swears it will help tremendously.
5 blogger friends that I can't wait to meet in real life:
1. Chelsie @ Balance Not Scale
2. Carrie @ Fitness and Frozen Grapes
4. Meghan @ After The Ivy League
5. Courtney @ Sweet Tooth Sweet Life
I haven't been blogging very long, but I feel like I've already made some true friends who I would love to meet in person.  I've also included Courtney in this list because I think her blog is so fun and informative.  I've been following her for about a year now, and I would love to have the opportunity to meet her in person.
Now it's your turn!  What are some of your 5 x 5′s?